"I Heart Characters! is a weekly meme hosted by Dani @ Perspective of a Writer to showcase our book blogger lover for characters! Each week she'll supply a topic and you'll supply the character. Post on whatever day suits you, about characters from whatever media you love (books, movies, K-dramas, television, manga, anime, webtoons, whatever!) and link up on Thursday so YOU and others can blog hop and share the character love. ♡"
I was so excited for this weekly meme I actually wrote it a week ahead of time. This weeks topic is Female Warrior (RAWR, she's powerful!) I had a hard time thinking of just one female character because most of the books, movies, tv shows I read and watch contain a strong, female warrior (YAY!).
Hermione- Harry Potter- Incredibly book smart
Queen Mary- Reign- Willing to give her life for her country
Merida – Brave – Fighting for her freedom
Lara Croft – Tomb Raider – Trying to save her father
All these women are strong and fierce in their own way, but when I first read the topic this is the woman that came to mind…
Katniss Everdeen – The Hunger Games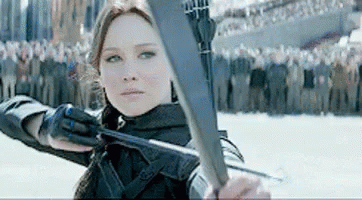 Who She Is
Katniss Everdeen is a girl who grew up in a dystopian world where everyone is split into factions or districts. She's from District 12, a mining colony. Every year there is a tournament consisting of 12 competitors. 12 child competitors. They fight till the death until one sole victor survives. It's the 74th annual Hunger Games, and Katniss has found herself as one of the 12 competitors. Will she survive?!
What She's Fighting For (More like what isn't she fighting for…)
Her Sister
Her Life
Peeta's Life
Her District
All the Districts
Why I Chose Her (Spoilers-Kind Of)
Let me start off by saying I have a younger sister I would do anything for. She's my best friend and we do everything together. So I can definitely understand Katniss' decision to volunteer for her sister. In the book she didn't even hesitate and she was willing to sacrifice her life to save and protect Prim. I think it takes an incredibly strong person to put themselves second in any situation but in this situation particularly, Katniss knew she was going to have to leave home, never see her family again, kill other victors all with the knowledge she will probably end up dying. Talk about putting yourself second!
After the first book she continues to fight for a better world for the people of the districts. After she went through the first Hunger Games, was threatened by President Snow and lost her home she still realized there was something bigger than her and she needed to fight for it.